AMERICAN LEGION SCHOLARSHIP PROGRAM
Giving Our Children The Future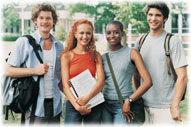 3B Scholarships
Grand Canyon High School Class of '16 &
Children or Grandchildren of a Current Post #42 Member
$5,000 for each
We've created new 3B application forms, so applying for 3B Scholarships is now easier than ever. Along with submitting an application, one must include an essay that is 3-5 pages in length. See application for specific topics.

3B Scholarship Application Packets for 2016 will be sent to Grand Canyon High School in mid January to
early February, and distributed to all seniors with a return date in mid March. See application for specific deadlines.
As for descendents of John Ivens members, scholarship applications are available at our office
(stop by or give us a call to request an application, specifying it's for a descendent).
We encourage all who are eligible to apply for our 3B scholarships. Just follow the easy instructions
and return application with essay to our office by the deadline.
3B Scholarship Winners TBD
Grand Canyon High School Grads: Trevor Hartigan and Jaru Valazquez

Descendent of Current Post 42 Member:
For a complete application please call Post #42 at (928) 635-0239 or visit your counselor for an application.
Please remember to fill out all applications completely. Those not completed will not be considered.